Hornet Live Is Here! 5 Things to Know About Hornet's Latest Exciting Feature
You asked for it, and it's here: Live video for Hornet's 35 million+ users around the globe, which makes Hornet not just the world's queer social network but now the world's largest queer live streaming platform, too! Hornet Live is yet another way for Hornet users to express themselves safely and authentically while meeting people around the world. (It's also, as we discuss below, a new way for Hornet users to make money!)
But what does the introduction of Hornet Live mean for you, our beloved Hornet users? Well, read on:
Here are 5 things to know about Hornet Live, our latest exciting in-app feature:
1. Hornet Live is being rolled out now, as we speak!
Hornet Version 7.5 is currently being rolled out to all iOS and Android users. Don't see Hornet Live when you open your app? That's OK, you should be seeing it soon enough. If you want it NOW — and we don't blame you — you can also try updating your Hornet app in Apple's App Store or the Google Play Store.
You'll know you're updated to Hornet Version 7.5 when you see the "Hornet Live" card in the video stories carousel at the top of the feed.
2. There are two ways to open Hornet Live and get started!
So you want to get started using Hornet Live? There are two ways to do this.
The first way is to click on the Hornet Live card in the video stories carousel that sits at the top of the Hornet Feed. The second way is to click on the "+" in the lower navigation bar, and then click on "Hornet Live."
When you do either of these two things, you will be taken to the Hornet Live landing page, where you'll be able to watch other users' live videos and "go live" yourself.
3. Hornet Live is a way for live streamers to make some serious money!
For so many people around the world, "going live" isn't just a hobby or a fun way to connect with other people — it's also a way to make money. For some, live streaming is even a full-time career! Of course, getting to the point where you're making serious money from live videos — on Hornet or elsewhere — takes time, energy and creating content that viewers really want to see.
Like most live streaming platforms, Hornet allows you to make money from your live videos through users sending you awards. Viewers of your Hornet Live streams will have a ton of awards to choose from, in many different denominations.
While you're streaming you'll see awards that are sent to you in real-time. Just remember that you should always say 'thank you' when you receive an award, and personal shout-outs during your live videos are a great way to do that.
As a streamer, once you have enough awards (on Hornet Live you'll rack up "Diamonds") you can "cash out" — that is, you can trade in that award revenue for hard-earned cash!
4. Hornet Live features a ton of cool features that you'll want to check out for yourself.
We wouldn't be surprised if you opened up Hornet Live and said to yourself "Wow, there's so much to play around with!" Hornet Live is so much more than just sitting at home, 'going live' and watching viewers trickle in — it's actually the most interactive way to connect and engage with other users. And while it's nearly impossible to list all the cool features of Hornet Live here, check out some of these cool aspects:
First things first, when you open Hornet Live, you're able to see who's currently live streaming in a few different ways: You can see which live videos are "trending" (the most popular live streams at that moment), you can see who "nearby" is streaming, who is "new" to Hornet Live, and who out of everyone you follow on Hornet is currently streaming. There are also weekly leaderboards that show you which Hornet users have been most popular on Hornet Live.
(Be sure to play around with the language filters on Hornet Live, too. If it looks like no one is currently live, it's most likely because you should change your language settings to be more inclusive.)
A feature called "Next Date" is a way to use live video to help with the ol' love life. Other users can go on timed "mini-dates" with you, and maybe someone will be a match!
"Vs. Battles" are another fun way to "go live." In battles, you and another Hornet user can go live together, and for a certain amount of time you will compete to see who can get the most awards from viewers.
The "guest box" feature (shown above) allows another Hornet user to join your live video. They'll appear in a little box during your live stream, kinda like the two of you are FaceTiming, and all of your viewers will see you both.
There are also a ton of virtual filters you can use during your live videos, from beautification filters to kooky options that give you an animal face or put a fried egg on the top of your head. Have fun with your live videos!
5. You can find tips and 'best practices' on how to use Hornet Live in the Hornet Creator Playbook.
If you haven't checked it out before, the Hornet Creator Playbook is a guide for "making the most of the world's queer social network." It's a handy guide to getting the most out of your Hornet experience, covering how to create the perfect photos and video stories, how to build your personal brand on Hornet, and a lot more.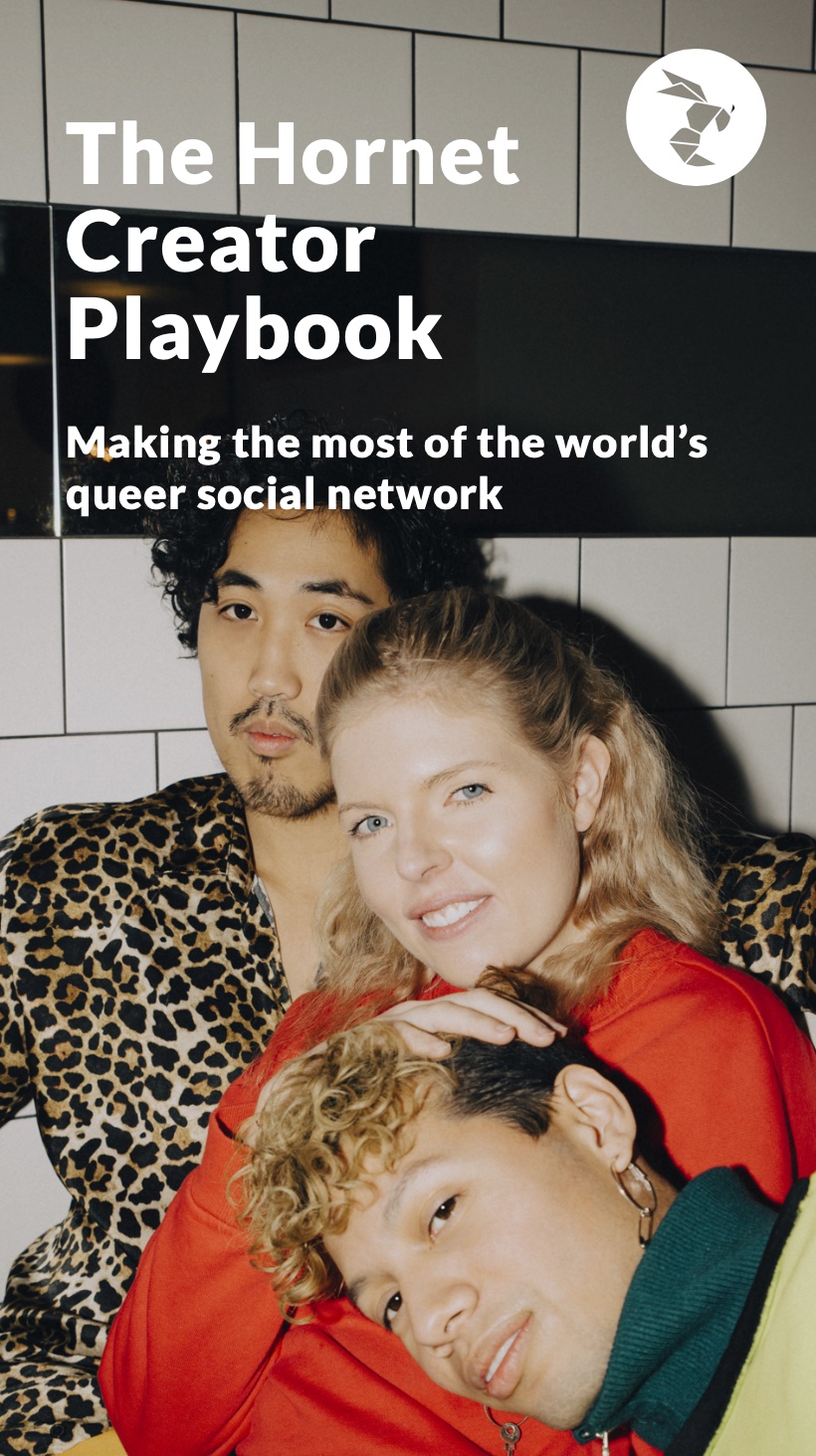 There's now a new section in our Playbook that covers Hornet Live, specifically six things to keep in mind while you go live in the app. For instance, did you know that a great way to help build an audience on Hornet Live is by appearing on other Hornet users' live streams and mentioning when you'll go live next? For more tips and tricks like that, check out the Hornet Creator Playbook here (or click the image above)!
So what are you waiting for? "Go live" on Hornet Live today, and maybe you can become Hornet's next big live video star!
Featured image at top: Klaus Vedfelt / Getty Images
Hornet